Important Notice in regards to emailing Shore Acres. We are currently making some e-mail account changes. Any and all e-mails should be sent directly to [email protected] until further notice. Thank you.
ABOUT US
A picturesque Vermont Inn, Restaurant, & Lakeside Bar meeting the shores of Lake Champlain.
Tucked away on forty-six acres of rolling grounds that meet the calming shore of Lake Champlain, our quiet country lakeside inn awaits you.
With a half mile of private lakeshore, embrace a side of Vermont that only few are lucky enough to experience. With perennial Purple Martins vibrant throughout the grounds, and morning sunrises unlike you've ever seen, Shore Acres Inn and Restaurant will provide you with the recharge and relaxation we all truly need.
Hidden and private, Shore Acres is located in the heart of Lake Champlain islands. With each and every room providing guests with an incomparable panoramic view of Green Mountains and glistening waters, your stay is sure to be one you will never forget.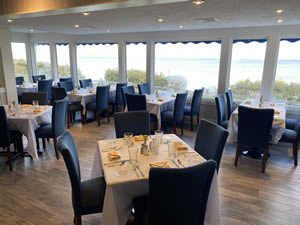 Lakeside Restaurant
Dinner Nightly (in-season): 5:00pm – 9:00pm

Reserve a Table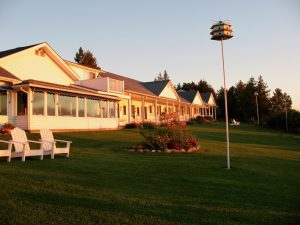 Shore Acres Inn
With 19 lakeside rooms and 4 lakeview rooms, all overlooking Lake Champlain. Check out all of our rooms, get room rates, and book your stay.
Wedding & Other Events
With 46 acres on our stunning property, we can accommodate both small and large events for all types of occasions.
Bravo Zulu Lakeside Bar
Visit our newest venue on the water. Check This Out
Gift Cards
Are you looking to give a Shore Acres Gift Card or want to Look Up Gift Card Balance? Click this link to purchase a gift card.
WHAT IS INCLUDED WITH YOUR STAY?
Amenities, Services, & Travel Guide
Continental Breakfast & then some!
Table outside your room
Deck (specific rooms only)
HD TV
Hi-speed WiFi
In-room Refrigeration
Microwave
Hairdryer
Iron & Ironing Board
Bicycle rack
Paddle Boards, Kayaks and Canoe
Lawn games
Fire Pits
Adirondack chairs and Chaise lounges
Tennis Courts
Waterfront Docking
Available for free during the day, waterfront docking…
Swimming Access
Limited to guest use; our 1800′ of shoreline has tons of access points.
Games on the Grounds
Numerous lawn games available for you to enjoy.
Tennis, Horseshoes, & Shuffleboard
Outdoor games for all ages are located throughout the property!
Mooring
Don't fret, boats are free to moor just off the coast of the inn.
Pirate Ship Playground
Perfect for younger guests, and just steps away from the Inn.
Adirondack Chairs and Chaise Lounges
With plenty of activities scattered throughout the property, we did not forget to incorporate plenty of places to unwind.
Dog Friendly
Shore Acres allows well-behaved dogs to stay in our rooms. We do not have designated rooms for dogs.

Thank you for the hospitality!
Our room was comfortable and the view of the lake was to die for! We enjoyed relaxing outside, walking the grounds and exploring this beautiful locale. The dining room was superb and magical. Simply can't say enough about our memorable stay. Highly recommended!
June McCarty and Evelyn Janeway
Nicely Located
Shore Acres is very nicely located, perfectly facing the lake. We spent most of our time at the resort relaxing and enjoying the restaurant and amenities. Highly recommended!
Mary & Peter 2021
Dog Friendly
We were looking for a clean, comfortable place to vacation in the Champlain Islands and Shore Acres was the perfect find. Our golden retriever, Jesse, was able to enjoy our vacation with us at this gorgeous, pet friendly resort. We will definitely be back!
The Fullers - Hartford, CT
Places to see and things to do!
We've been vacationing at Shore Acres Inn & Restaurant for over 20 years and it's always like a family reunion! Delighted to see the Chef's and staff in the dining room and the views are simply spectacular. Lot's of things to do and places to visit all within a few miles.
Timothy Crandall - Boston, MA
Wonderful place to stay and play!
I'm usually pretty fussy about where I stay and nit-picky about rooms. When I visit and stay at Shore Acres, I can get a clean, comfy room with panoramic views of the lake. Plus, the rooms are all pretty unique and just for fun, I always pick a different room to stay in. No cookie-cutter corporate rooms for me! This is THE place to stay if you want to remember the experience. I could rave on all day but just try it, you'll LOVE it!
Miranda Johansen (and Sparky, my spaniel)
Magnificent wedding venue
Thanks to the employees, staff and management at Shore Acres for making our wedding special and memorable! We were blessed with lovely weather and sunny skies and the outside reception was simply magical. Everyone had a great time and we couldn't have found a more wonderful venue to host our nuptials!
Steve and Katy Maxwell, Rochester, NY
Go jump in the lake!
Yeah, seriously. The Champlain Islands are beautiful but some lucky dude must have picked this location to start a business because this is the MOST beautiful shoreline in the area!
Michael McCrae
No stress, games and Adirondack chairs
When I'm on vacation I like to stay put and relax, especially after the long drive from New Jersey. We stumbled upon this country inn on the way to Plattsburgh, NY but decided to give it a try. Wow, is all I can say. Enjoyed a couple days of hanging out, playing games and sleeping in the adirondack chairs while taking in the views. Wish I'd have stayed a few more days.
Earl and Gladys
SEE SHORE ACRES INN & RESTAURANT AT