Shore Acres Inn and Restaurant
North Hero, VT
Tucked away on 46 acres of picturesque grounds, Shore Acres Inn and Restaurant sits on half a mile of private, serendipitous lakeshore. Rolling grounds and the delicate waves of Lake Champlain meet just outside of your suite's door. Whether celebrating a family reunion, enjoying a romantic anniversary, or engaging in a spontaneous weekend getaway, we invite you to immerse yourself in the Vermont Lake Champlain Island's scenic ambiance.
Dogs Welcome
Shore Acres allows well-behaved dogs to stay in our rooms. We do not have designated rooms for dogs. We charge $40 per dog per night. No size or breed restrictions.
Dogs must be with their owners/caretakers while outside their rooms. Dogs are not allowed in the room unattended. We ask that you bring a crate if you are coming down for dinner or leaving the property without your dog. We have designated areas to walk and run your dog and when you arrive our dog policy will be reviewed.

PLEASE PICK UP AFTER YOUR DOG ANYWHERE ON THE PROPERTY. We have supplied a convenient waste station with bags located near the front entrance (housekeeping shed), next to the dock stairs, and near our Annex building.
We do not allow cats, birds, reptiles, lions, tigers, bears (oh my!), etc.
Accommodations & About Your Stay
Where comfort and relaxation exceed your expectations.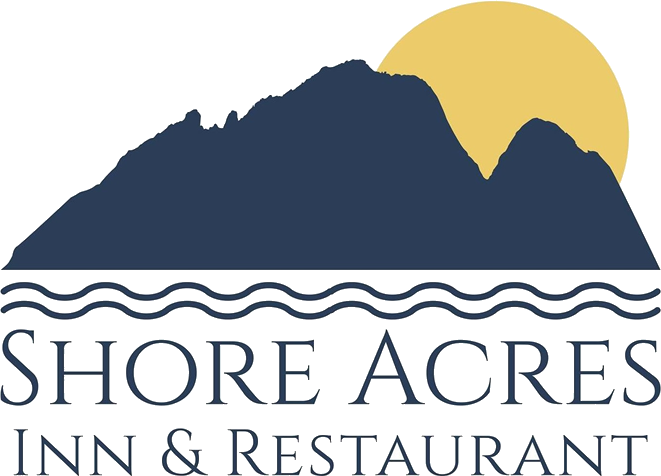 How it all started – Our History
Est. 1951
Officially opened in 1951, Shore Acres original inn owners, Harvey and Dolly Dodds took it upon themselves to serve travelers from far and wide, summer visitors, and year-round residents. With a desire to share and embrace the serene peace of their lakeside property, the Dodds did not disappoint.
As time went on, the Dodds' decided it was time to retire and sell the relaxing property to the right buyer; one who would carefully maintain the vision the couple had for so many years. Eventually sold to Allen Stratton, he continued to operate the inn and restaurant for nearly twenty years, constantly keeping the original owners' vision at the forefront of his mind.
With love for historical writing, Stratton eventually decided to sell the inn and restaurant to devote more time to his passion. In 1981, the inn was sold to the White and Tudhope families. Neighbors to the property at the time, the two families always had their eye on the peace of paradise they resided next to. Lucky for them, it eventually became theirs. Eight years later, Susan and Mike Tranby joined the Shore Acres Family, becoming partners with the Whites and Tudhopes.
In January of 2021, Shore Acres' property was sold to Neil and Kelly Gillespie. As the current owners of the waterfront property, they have made continuing the long tradition of excellence a priority in everything they do. Jason Hanny, General Manager, is ensuring this vision is kept in a way that pleases our predecessors.
As Shore Acres Inn and Restaurant continues through the twenty-first century, continuous efforts are made to update the facility, grounds, rooms, etc. The vision of maintaining a serendipitous escape from the hustle of everyday life has been maintained, and we cannot wait to share it with you.